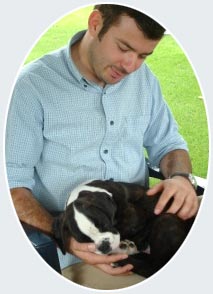 I've been admiring the Boxer for several years but only in 2000 I got interested in dog breeding, dogshows and everything surrounding it.
My entrance in the "boxerworld" came with the request of creating a website for a portuguese kennel.
My first Boxer came from that kennel and is called Gwen dell Conde de Valmont.
After that website I've made many others for people involved with dogs.
When choosing my affix, "Cyberbox" seemed to be a very logical choice, since so far everything had been related to the web.
Soon my keen interest for boxers was turned into passion, into a strong will of wanting to learn more and more about this amazing breed. Wanting to get to know more and better boxers and...to me the logical consequence of all this: giving my contribution to the improvement of the boxer by trying to breed works of art.
Quoting Dr. Tomaso Bosi, " Breeding doesn't mean increasing the breed population but, most of all, to improve it". I look at this as a big responsability and have the deepest respect for those who have been working to improve the breed along the years

I still have a long way to go and try to learn a bit more every day, in every conversation with experienced people, in every moment I spend with the fabulous creatures that boxers are. They are a never ending learning source. They are not only the eternal clowns that bring us so many moments of joy, they are, most of all, great friends and if we are alert to what they "tell us" we will learn a lot from them.
My breeding goals are simple...I only wish to breed the type of boxer I like the most: elegant but sturdy and balanced, being as close to the standard as possible. I like stylish heads, with high raise of skull, well pronounced stop; athletic construction finding the right balance between elegance and substance. Studs and broodbitches will be selected in order to achieve this goal, boxers that are faithful to the breedstandard, healthy and balanced.




I enjoy spending time with my dogs, I love the boxer, the "art of breeding", handling, even the stress that comes with showing...the moments right before entering the ring. As long as I have fun doing all this, you'll be able to spot me along the ringside for sure. If one day I lose interest regarding the show aspect I may, who knows, step away from that. However it may turn out, boxers will continue being a part of my life, no doubt about that. I need them!
The year 2002 was the beginning of my dream with the birth of the first homebred "Cyberbox" litter. It was also the year "Cyberbox" site went online (1st version, the site is now on it's 2nd version). I hope this "adventure" will keep growing... Let's wait and see what the future brings.
The first champion from my kennel is Dai de Cyberbox, CH Portugal, and she belong to Paulo Fernandes, D'Anteikan Boxers, who has done an amazing job with Dai. She is also the dam of the multi champion Bat D'Anteikan, which also makes me feel quite proud. Here is a photo of Dai in her show days:
This passion for the breed has been bringing many people together, resulting in longlasting friendships and I hope it will keep doing that in the future.
If one day we bump into to each other at some show, near the ringside, don't hesitate to say "hi"!
Thank you for visiting this site, I hope you like it!


...I'll see you around!
Elias